We may earn money or products from the companies mentioned in this post. For more information, see our disclosure.
Find the best novelty Christmas hair accessories and ideas here!
Some people really like to go big for the holiday season with novel, kitsch, and crazy items on their outfits, hair, homes, cars, you name it. And who can blame them! The fall and winter holiday season is that rare time of year when you can go full out and people will praise your crazy style ideas instead of ridiculing them. So why not have some fun?
If you're looking for some unique items to wear this season, here are our top product recommendations.
Novelty Christmas Headband Ideas
When one thinks of a novel hair accessory, headbands are usually the first idea. They offer so many possibilities for styling, from gorgeous formal options, to ones that should only be worn at something like an ugly sweater party. Here are our recommendations for fun headbands that can work for a variety of settings.
Plush Reindeer Antler Headband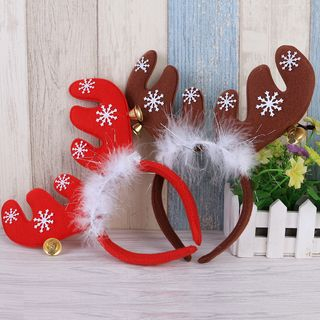 Christmas Deer Horn Headband
One fun party option are these plush, deer antlers. I like these because they've got a lot of little details that make them distinct from other options. The white fluff, bells, and snowflake pattern are all small, seasonal touches that come together to give this option a lot of holiday cheer. Another benefit of this option is that it's fairly unisex, and works for just about any age.
Christmas Flower Crown
Check Price on Amazon
Go with a flower crown for some bohemian holiday vibes! This option is a subtler choice, making it usable for casual day-to-day looks, and not just parties. Incorporate it into a look that you would usually use a flower crown with, like flowy dresses or  60's outfits, and suddenly you're in the holiday spirit. This is also a good choice for warmer climates. It's always feels a little strange to be wearing winter motifs like snowflakes when there's no actually snow to be seen. Depending on the weather in your area, flowers may feel more suitable.
Christmas Elves Headband
Check Price on Amazon
If a white beard and a stomach like a bowl full of jelly isn't really your style, why not show up to a party as an elf instead? You can still crack jokes about gifts and the north pole, just without the hassle of dressing up like Santa. This elf headband set is a great, because it comes with four different options. You can choose your favorite, and then spread the fun around to your friends and fellow party guests.
Hair and Beard Ornaments
Take your holiday looks to the next level by decorating your hair or beard like it's a Christmas tree. Beardments are a popular trend that works so well with Christmas party looks. But don't be put off by the the title. Beard ornaments and glitter are actually unisex styling items that work as long as you have hair! They're a unique addition to any hairstyle, so check out these two product recommendations below.
For more recommendations, you can also check out our ideas for Christmas hair decorations.
Snowflake Beard Ornament
Check Price on Amazon
Take a snow motif to the next level by decorating your hair or beard with snowflake ornaments! These are a great option because you can wear them casually as a fun addition to your outfit, or you can dress them up with some glitter and additional hair jewelry. My only complaint for this option is that the clips are miniature claw clips. Generally, for things like this, an alligator or french style clip is preferable. You can still get a hold with claw clips, but you'll need to use more hair to get it to stay in place. As such, this option would probably work best with people who have thick hair. Thin or fine hair types can certainly still use it, just know that you might not be able to use as much as you'd like, and it may take some work to get them to stay put. However, the product does claim to be usable for all hair types and densities, so it's worth giving it a shot if you like them.
Light Up Beard Ornaments
Check Price on Amazon
For and extra flashy option, go with these Christmas lights for your beard. This set comes with six ornaments that really, actually light up! I love how outrageous that is; certainly, if you're going to go with something like this, you might as well go as bold as possible. These are also the perfect decorations for a Christmas tree braid. The only potential downside is that, again, these come with claw clips in order to secure them. I don't consider that ideal for use when wearing your hair down, but if you do decide to go with a Christmas party updo like these, claw clips will actually work in your favor.
Christmas Hair Bows
Hair bows for adults are a popular trend year round, but they also happen to lend themselves perfectly to the holiday season. They're a better option for someone who wants to accessorize, but doesn't want to get too crazy. Here are some party ready options that can work for your hair.
And if you still can't find what you're looking for, you can check out our recommendations for the best red Christmas hair bows.
Gold Hair Bow
Check Price on Amazon
Add glam to your style with this glitter gold hair bow. For bows, options with stiffer fabric like this one are good because you can adjust the fullness of the sides, depending on the look you're going for. I like the style of this option. however there is one potential downside with the clip. It's not clear what sort of clip the bow includes, so just be prepared to break out the bobby pins if needed. Otherwise, this is a nice option that can be used all year round.
French Barrette Hair Bows
Check Price on Amazon
If you like the look of oversized hair bows, this option is a better choice. It's still larger than the average bow, and the sides are very full, but it's not going to overwhelm your style. It's also got a french style clip, which works well for multiple hair types. The only downside to that clip style is that it can be difficult to work into updos, but it's ideal for half-up half-down hairstyles.
How to Make Christmas Hair Bows
If you can't find the cute hair bows that you want, consider making them instead. It's not that hard to make unique or specialty hair bows, you just need the right knowledge. Here is a basic tutorial for anyone who wants to make one.
Making your bow:
Choose your ribbon. If you want something that you can adjust and manipulate easily, go with something stiffer, like floral ribbon. You can also get silk ribbon that has wire along the edges. For a more feminine look, go with a standard, silk ribbon. This is also the time to have fun with your style. Don't be afraid to go for something outrageous, flashy, or bright!
Cut two or more sections of ribbon that are equal in length. You're going to be folding these in half to make the side loops of your bow, so adjust the number of sections and length accordingly. (For a medium sized bow, two sections at four inches is a good choice. This will give you one, two inch loop on each side.)  You can also cut smaller lengths to stack the loops on top of one another.
Cut one more length of ribbon. This will become the center of the bow, so you want to keep it long enough to tie. This will also become the tails, so cut it fairly long if you want to have the tails dangling out.
Fold the lengths in half, arranging them beside one another, or on top of one another, depending on the look you're going for. Trim the edges if the loops are too long.
Gather the edges of the loops and pinch them together at the center. Pause here and consider if you like the way the bow looks, as this will be pretty close to the finished product. If you don't like it, go back and trim the loops or arrange them to your liking. If you do like it, you can move on and tie the two sides together.
You have a few options for tying the sides together. For a longer, floppier bow, you can use the length of ribbon that you cut in step two to hold everything together. Just make sure you tie it tight, right in the center. You'll also want to make sure that the knot sits at the back, so just pay attention to what direction the loops are facing. For a slightly easier option, or for shorter bows, tie the center with a bit of string or craft wire. This will give you a more secure hold, and it will also make the bow easier to handle. You can further secure it with some hot glue, placed in the center, and throughout the layers.
If you tied the bow with wire or string, take the length that you cut in step two, and use it to cover up the middle of the bow. (You can wrap it several times to make sure that everything is hidden.) Tie it off in the back of the bow. (At this stage, if you want to make a hair elastic bow, you can secure the elastic to the back as you tie the center ribbon.)
When the bow is tied in the middle, you can cut off the tails to whatever length you prefer. Cut them at an angle for a more traditional look. You can also fold the ends in half, and cut an upwards triangle where the two edges met, to get a forked shape.
If you're using a clip instead of an elastic, glue the bow to a clip, or run the top part of the clip through the knot in the middle. Depending on your hairstyle, you can also use an additional length of thinner ribbon to make a tie.
And you're done! If you used glue, wait for it to dry, and then attach it to your hair.
For other tutorials on how to make big hair bows, check out this one or this one.
Having Fun With Your Hair Accessories
Going with novel choices  is all about finding something that entertains you; it should be a delight to wear and share with others. So branch out and get something that's outside of your typical style. There are good casual options that you can wear during the holidays, but why not have something bold too? Be willing to be with with novelty Christmas hair accessories that are a little ridiculous, or unusual, all for the sake of having fun and getting into the holiday spirit.