We may earn money or products from the companies mentioned in this post. For more information, see our disclosure.
People don't appreciate the difficulty that is finding a clip that can handle thick hair. Either the teeth never quite close all the way around your hair, or the clip is too small to hold everything in place. They're constantly sliding around, or falling out, or letting hair fall loose. It's not fun. Luckily, there are plenty of hair clips for thick hair available. Here are some recommendations for how to find the right ones, as well as some shopping suggestions.
Features to Look For:
Strength
Sturdy plastic is a must. One of the issues with having a lot of hair, is that the the teeth of the clip will break off if you close it or adjust it with too much force. Look for options that have thick sides and teeth.
Teeth
Speaking of teeth, you'll want to make sure there's a lot of them, or that they're large. You don't want the teeth to be spaced out too far apart, or to be small. This will provide absolutely no grip. It also helps to look for ones where the teeth interlock closely.
Large Capacity
When shopping, don't get caught up thinking that you automatically have to get the largest clip available; you can get something smaller and less noticeable. The key is to pay attention to the overall capacity. Features should include long teeth, and a wide jaw. If the pin opens wide, and the teeth extend far enough inward, it'll work fine. Adjustable things like elastic and ribbons are also helpful. And keep in mind for decorative options: you can assist a clip that's too small with standard bobby pins.
Functional Options
Having a functional option that's not really meant for going out is a must, especially if you're into styling. I know from my days styling my hair when it was at it's thickest, it's an absolutely pain to section your hair if you don't have something that can hold the sections in place. A lot of times I would have to use an elastic and then clip it up with a clip. I had to ask myself, "What's the point?" I didn't see a reason to go through all that extra trouble of using an elastic just to clip it anyway. Additionally, elastics can be damaging, so they're good to avoid where possible. Here are some options that I like when styling.
Butterfly Clips
Large Butterfly Clips available from Amazon
These butterfly clamps are great because they have plenty of long, little teeth. This gives them a surprisingly large capacity! They are a little flimsy, but it's usually alright since you're only portioning out your hair, and not holding all of it in one spot. I prefer them over the usual duckbill clips because of their superior hold. With this type of clip, I don't have to worry about my hair slipping out of it's sections.
Croc Clips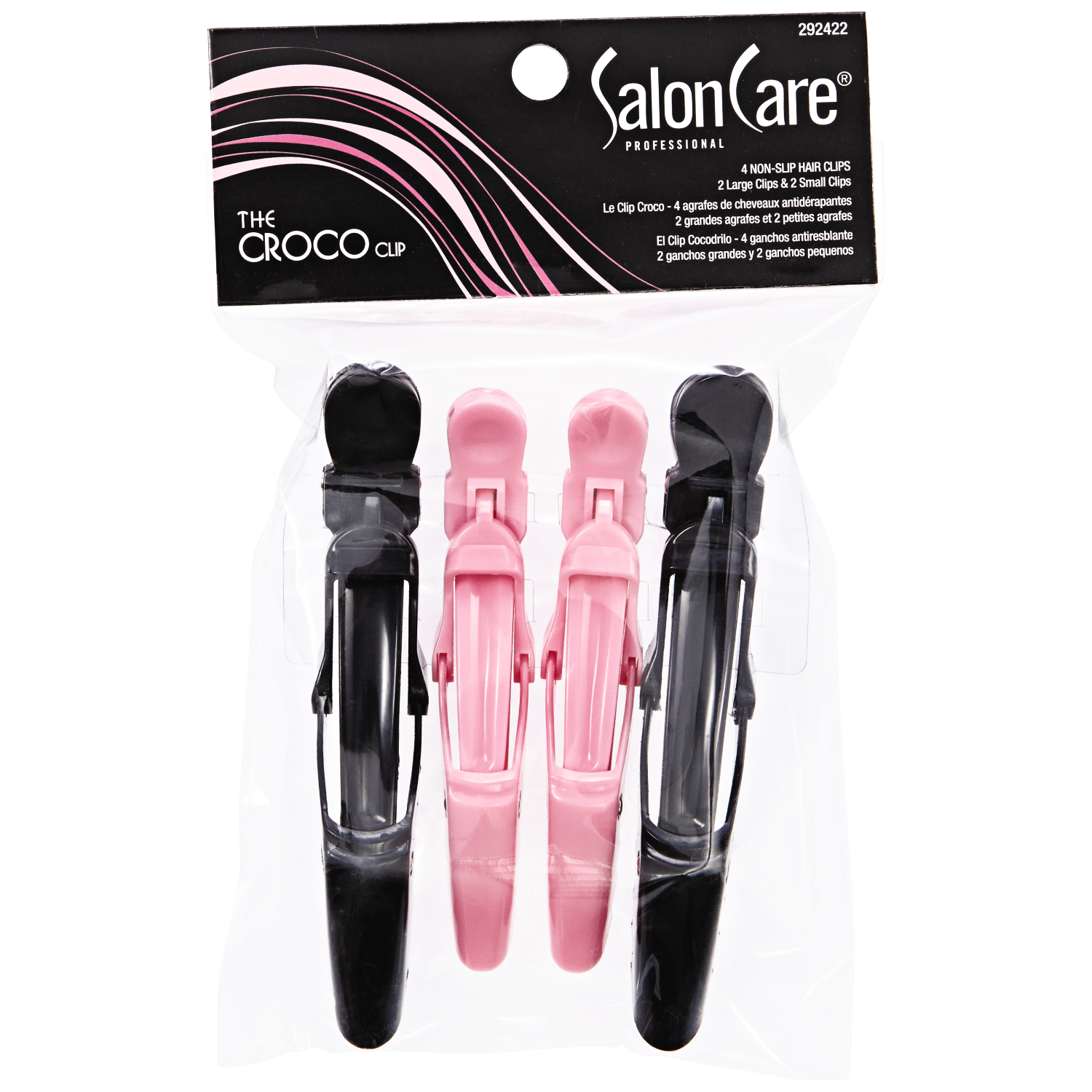 Pink & Black Croc Clips
If you prefer alligator or croc clips, I recommend this type, with the extra joint on the top portion of the clip. I find that they don't hold as much hair as the butterfly clips, but they're still great for sectioning. And they have more hold than a duckbill clips, so they're good even with smaller portions of hair.
Decorative Options
If you want clips that you can wear out and accessorize with, here are some great options.
Octopus Clip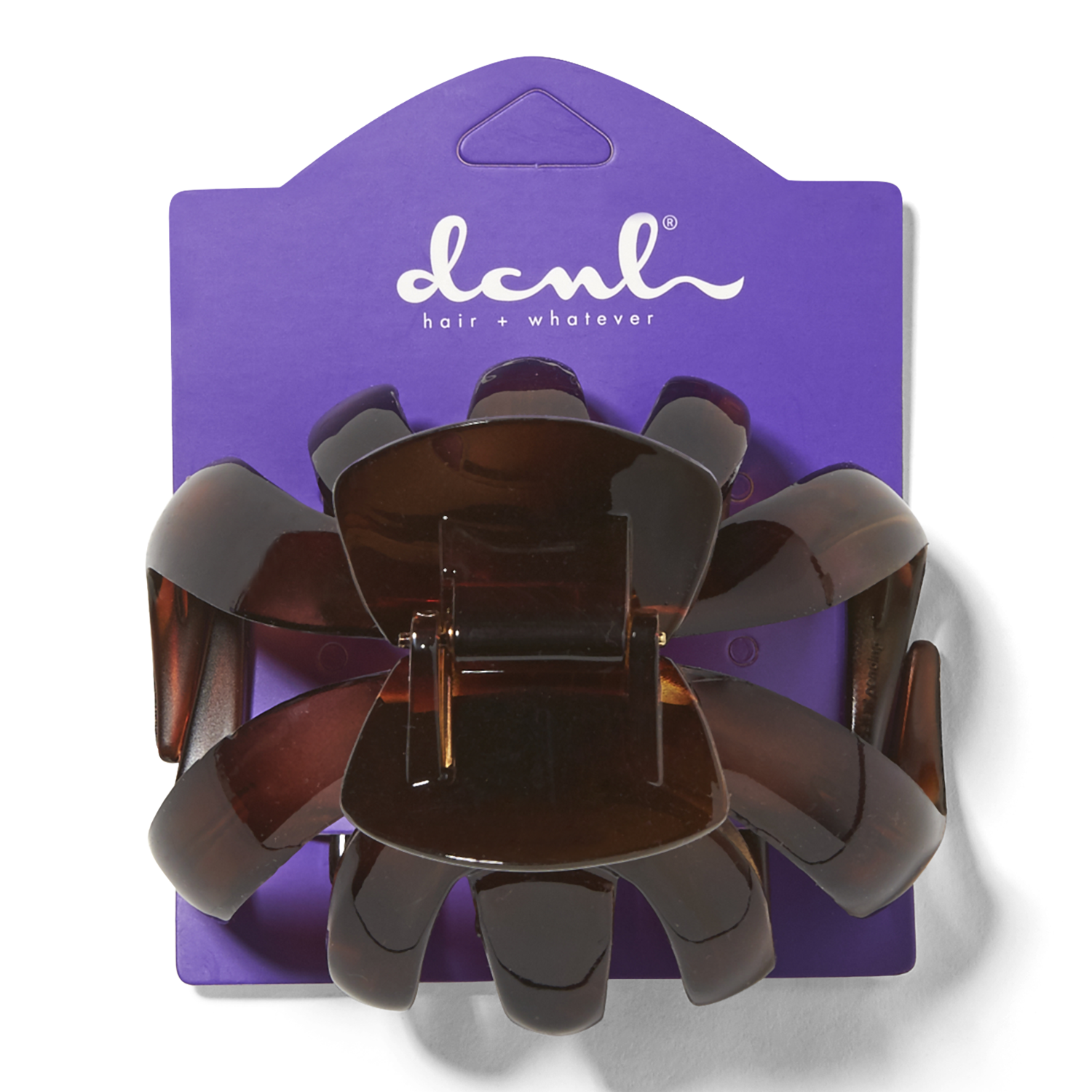 Tortoise 3 1/2 Inch Octopus Hair Clip
The benefit of using an octopus clips is that the teeth are very long. That makes them capable of holding in a lot of hair at once. This would probably be my favorite style of clip, if not for the fact that I have had some issues with them in the past. They're usually fine, however, if you clip the hair too low, it can start to get too top heavy and become lose. Alternatively, if you put it too high, your hair can slip out. Despite this, these clips are still pretty handy. If you can figure out their optimal positioning, they're efficient, and easy to disguise. It's a good option if you want something a little more subtle.
Rhinestone Clip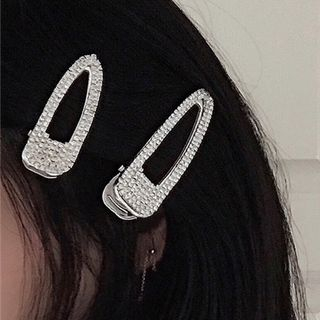 Rhinestone Hair Clip
These cute options are perfect for pulling pack annoying bangs or just using as a cute accessory. Clips like these are great for thick hair, because they're heavy, and they have a lot of teeth. With a good chunk of hair to bite into, they should sit securely on your head.
Cat Hair Clips

Set of 2: Animal Hair Clip (Various Designs)
Of course, cute options like these are also fun to consider. One of the benefits of having thicker density is that your hair will be able to support little baubles like these. They won't slide as much since they've got plenty to bite into.
Small Clips
10 Pack Medium Hair Clips available from Amazon
I like these clips for half up hairstyles, although they're great for other styles as well. They're small, but their durability and capacity makes them a good choice. They're also a multi-function option that can be used for sectioning your hair, or for clipping your hair up in a particular style.
Options for Thicker Density Hair
Finding accessories that can handle thicker density can seem daunting, but it's actually pretty easy! As long as you pay attention to the features that can affect the capacity of the clip, you can find something that works for your hair. If you're looking for hair clips for thick hair, focus on the teeth and the materials in order to find something that's both cute and functional!