We may earn money or products from the companies mentioned in this post. For more information, see our disclosure.
With straighteners, there are so many little details that can make a difference in your overall style. Opting for a flat iron with beveled edge is one such detail. Although it's not as major as other features like maximum temperature and plate materials, the shape of the plate can actually have a big impact on your hair.
What is Bevel?
In this case, bevel refers to the rounded edges on the plates of the straightener. What makes these different from other plates, is the angle that they curve at. Some plates will have curved edge, but the drop off between the surface of the plate and the side of it is a sharp 90 degrees. With bevel plates, the angle of that edge is at a much softer. Rather than a sudden drop off, you get more of a rounded shape.
Why does it matter?
This seems like a small matter, but it really can make a difference in your finished styling. Having less of an angle between the surface and the side means that hair will slide over the plates rather than being pulled over them. This is especially useful for curling, since the method of curling with a straightener involves pulling hair tight along the edge of the plates.
When the edges have a harsher angle, the issue is that you're putting more focused pressure on your hair, which can lead to you accidentally pulling out or breaking strands.
What to look for:
When shopping for this type of device, you want to pay careful attention to the sides of the plates. Straighteners that have no bevel will have flat sides along the plates. Bevel plates have a distinct curve that will be noticeable along the sides.
In some cases it can be difficult to tell, so make sure you read the product description carefully. Most products with this type of plate will mention it in the description, since it's a desirable feature.
Product Recommendations
If you're looking for this type of device, here are some options that we liked. Each of them has beveled plates, along with other features that we found beneficial for styling.
Brilliant Beauty Straightener
Check Price on Amazon
Features:
Ceramic Tourmaline, floating plates
450 degrees Fahrenheit maximum temperature
15 second heat up
Auto shut off
Comes with heat resistant mat, travel bag, and clips
Review:
In addition to the bevel shape, the plates on this device are tourmaline ceramic, and float. That makes this device an excellent choice for anyone who wants to protect their hair while styling. The floating plates, like the bevel, are going to lessen the amount of pressure you have to put on your hair, while the tourmaline is going to help lock in hair's natural oils. Ceramic is also one of the best materials for protecting hair, since it heats evenly.
Apart from those beneficial features, I also like that this option comes with a heat resistant mat and alligator clips. As we've mentioned before, alligator clips are good for sectioning thin and thick hair types. And the heat resistant mat gives you more options about where to style your hair, since you don't have to worry about the flat iron damaging whatever surface you're resting it on.
Herstyler 100% Ceramic Straightener
Check Price on Amazon
Features:
1.25 inch, ceramic plates
Negative ion technology
Maximum temperature of 460 degrees Fahrenheit
Review:
This device is another ceramic option, although it doesn't have tourmaline added in. However, it does have negative ion technology, so presumably you would get benefits similar to that of tourmaline plates. It also has slightly larger plates than the other options, at 1.25 inches. I like this size, because you get a little more surface area for thicker hair, but it's still small enough to curl with.
My only complaint about this device is the temperature selection. The dial that they provide between the flat iron arms has no temperatures marked besides the minimum and maximum temperatures, so it's near impossible to figure out what temperature the device is set at. Since temperature is so important for hair health when styling, it's better to have a device that tells you exactly how hot it is.
However, I think the device is still good if you generally use a low temperature (I would consider 325 degrees Fahrenheit or less to be low). You can just keep the dial below the halfway mark, and you should be fine.
GVP Ceramic Flat Iron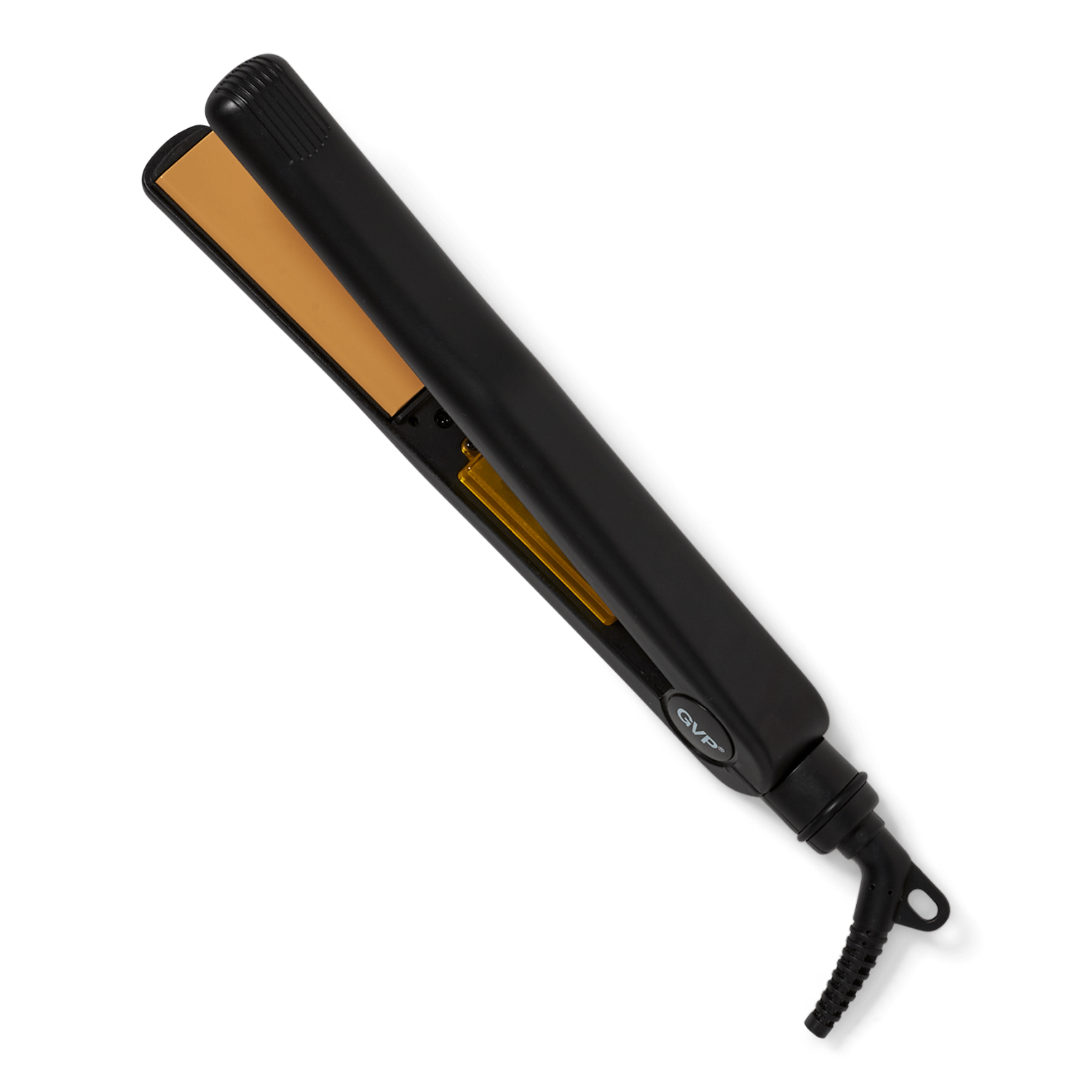 1 Inch Black Ceramic Flat Iron
Features:
Ceramic Plates
Ceramic Heaters
Auto shut off after 2 hours
9ft swivel cord
Review:
I like this particular brand because they pair ceramic plates with ceramic heaters. It's hard to beat that combo when it comes to temperature control. And all that even heating is going to help you protect your hair from damaging hot spots on the plates. Overall, it's a good option.
For more details on this product, you can see our full review here.
Getting the Most Out of Your Straightener Plates
Plates are the part of the straighter that your hair will interact with the most, so it's important to note what sort of plates a device has before you purchase it. Plate materials as well as the temperature of the plates can make a huge difference in the safety and efficacy of your styling, but there are smaller details that matter too. Purchasing a flat iron with beveled edge is just one more way you can protect your hair while achieving your ideal style.