We may earn money or products from the companies mentioned in this post. For more information, see our disclosure.
Elastic ribbon hair ties are becoming more popular lately and for good reason, they have many benefits over traditional elastic band hair ties. The first is that they are no crease hair ties, which means they won't leave creases in your hair once taken out.
They are also more comfortable, cause less damage and breakage, and can double as bracelets.
Whether you're looking for hair ties in bulk to give as gifts and party favors or just looking for some cute hair accessories for yourself, there are plenty of uniquely designed affordable options for you.
Keep reading to see our top picks!
No Crease Hair Ties
---
Floral Ribbon Hair Ties
by Jeune Marie
Features
This pack includes a lot of hair ties, 36 to be exact, and the price is very cheap compared to what you would pay on average for that amount.
Because it's bulk and for cheap, it makes for an excellent party favor for birthday parties, bridesmaids parties, bachelorette parties, etc.
While the hair ties themselves are eye-catching, the floral print has its drawbacks.
It's not neutral so it may clash with certain prints and patterns, and it's more in season during the summer and spring months.
For this brand however, they do have more neutral prints available.
All-in-all this is a great choice if you want or need a lot of hair ties and don't want to spend a lot of money.
---
Elastic Knotted Hair Ties
by FOXYBAE
Features
While there is no clear indication of the the number of hair ties included in the product description, we can assume from the product image that it is four.
As for the design, it's actually quite cute, but half of them do have the brand name on them. The good thing is that their brand name can double as a cute phrase.
While this set is not the "best deal", reviewers on their website seemed impressed with the quality which is something to be praised.
As the saying goes, you get what you pay for.
---
Black and White Crease-less Twist Ties
by DCNL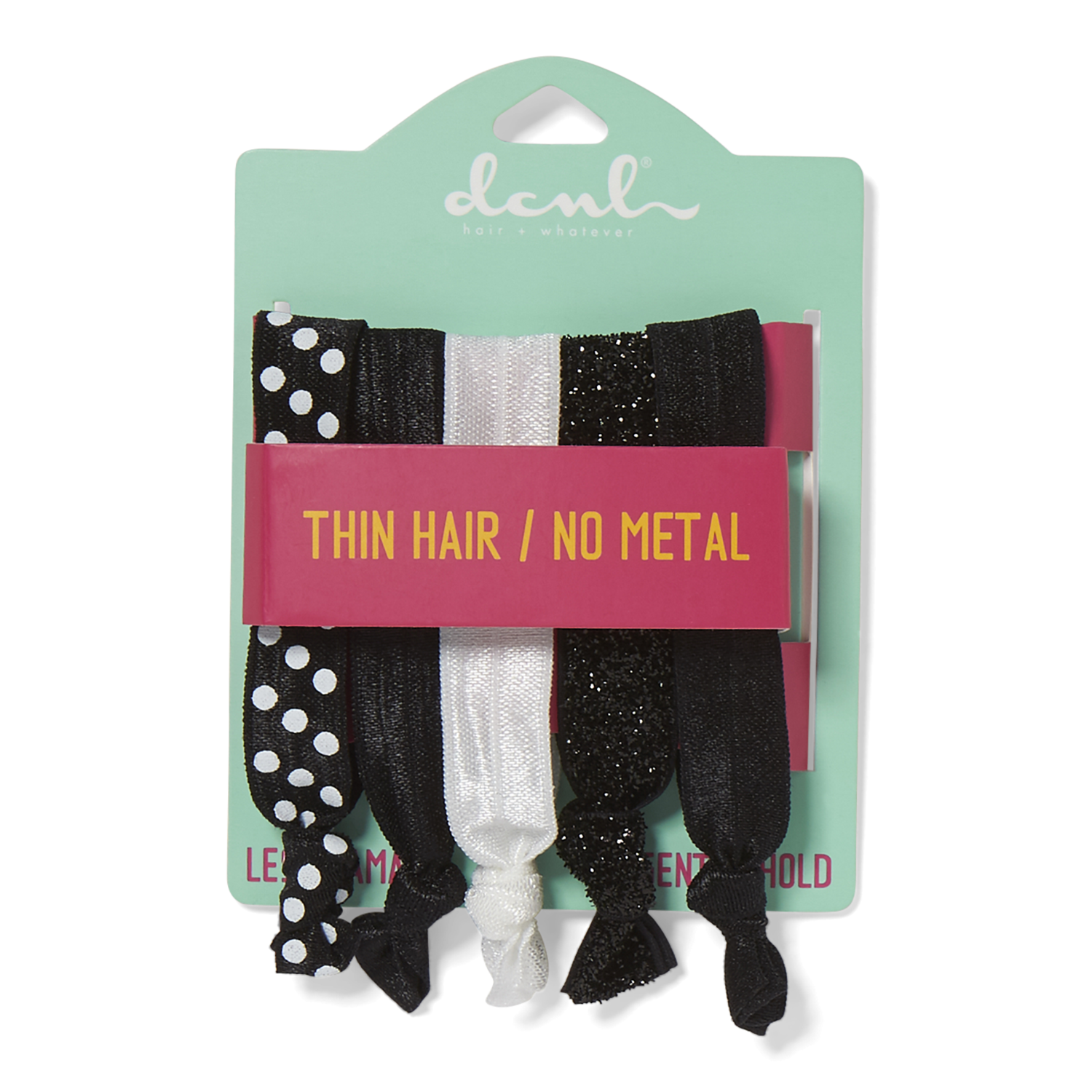 Features
There is no information in the product description of the number of hair ties included, however based on the product image, we can assume it's five.
The design plays up the neutral colors black and white with patterns and textures. Neutral is always good because it can match with anything, however when it's too styled it can remove it from the casual wear category. Some of these hair ties with the glitter and satin-like shine are in danger of looking more formal.
The price of this set is the most affordable option. If you like neutral tones and are looking for something cheap this is a great option.
---
That's it for our elastic ribbon hair tie sets. What's fun about these is that there are many different unique designs and they have many benefits such as being no crease hair ties. Hopefully you were able to find one that matches your style today.